SLA Verification & Quality of Service Control: The Basis for Successful VoIP and IPTV Deployments
Integrating voice, data and television networks into a single architecture is an old ambition of the telecommunications industry. In the 1980s, ISDN presented a unified interface for data packets and voice based on X.25 and PDH circuits and intended to support all services. In the 1990s, the ambitious proposal by ATM attempted to handle all kinds of traffic through a packet network. This proposal did not reach the expected acceptance but allowed that during this decade a new approach of structured convergence on Ethernet and IP tries again the Multiplay integration.
Overview :
The fear of unsubscribing is a major motivation for telecommunications operators. Customers want to use telecommunications services without needing to call a service center. This is why a purely reactive approach to video quality issues is unlikely to be viable. Our goal is to provide a fault management solution that will improve service execution, service assurance and service optimization.
We have a strong and great experience in the field of communications and in particular in the knowledge of Ethernet / IP protocols. But as it is a universal network, its deployment is not without difficulties. Everyone knows that packet networks are more efficient and less expensive than the PDH / SDH circuits that preceded them. The problem is that the native Ethernet / IP architecture is unable to permanently guarantee a predetermined capacity or quality, at least as it has done so far for PDH-SDH circuits. This can be a serious drawback for the transport of audio and video signals, including the transport of critical or time sensitive data.
Ethernet is a technology suitable for LAN networks, it has no mechanisms to provide quality of service (QoS), differentiated for each application. On the other hand, IP was born as a network technology to manage the datagrams of heterogeneous networks in a decentralized manner and with minimal human intervention. But it doesn't have a native mode to carry voice and video in real time.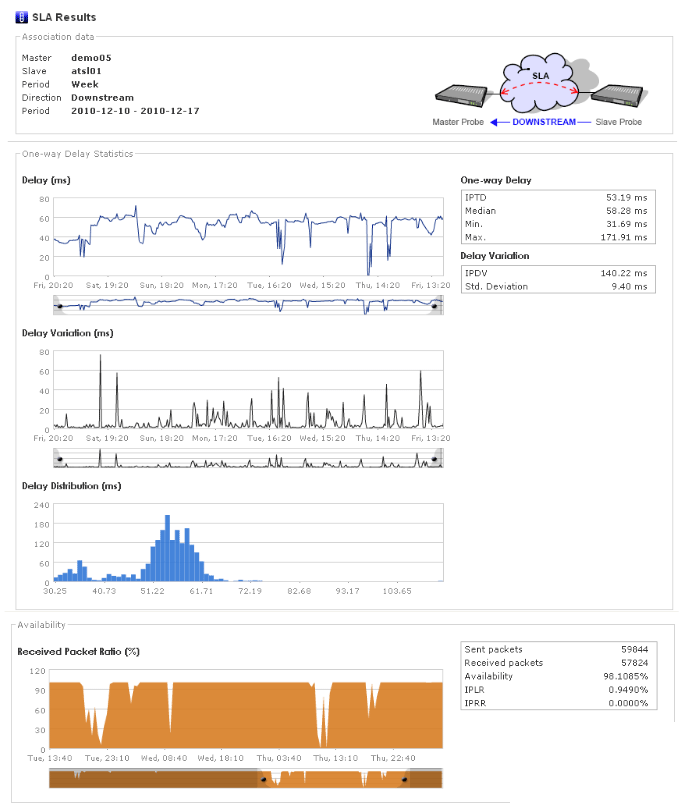 NetStorm generates typical IP and Ethernet disturbances to test applications, devices and protocols that should be tolerant of packet delay, jitter, loss, duplication, rearrangement, errors and bandwidth variations.
The path to excellence standard Y.1541
There are several references to follow published by the Metro Ethernet Forum (MEF), ITU-T, IETF and IEEE. The MEF suggests that service levels in Carrier-Ethernet networks be described on the basis of access parameters. While the rec. ITU-T Y.1541 defines up to eight quality of service classes to define quality objectives for the IP network. By being faithful, these organizations can be described with precision the telecommunication service through two series of parameters:
• Bandwidth Profile (WB) defines the characteristics that can transmit packets in terms of speed and quantity.
• Quality of service (QoS) profile defines quality characteristics in terms of delays and errors in the transit of packets on the network

Service level agreements
The inherent difficulty of network packets in providing accurate quality and bandwidth has changed the content and structure of the service provider agreement (SLA). In PDH / SDH networks, checking an SLA consisted of checking the Bit Error Rate (BER), availability and timing of backups and protections. The adoption of a unified network based on Carrier-Ethernet / IP has made SLAs more complex to describe and verify the service. While the PDH / SDH service level is verified at the time of installation (commissioning), unified network monitoring is a more appropriate method because network conditions are constantly changing due to the nature of statistical multiplexing. This is why today it is more often an audit and certification of SLA agreements, and it is the way to respond to service closely and to define responsibilities.

Telecommunications service level agreements (SLAs) benefit both parties. For customers, because they are most interested in signing and controlling the quality of the service they pay for, but operators also derive benefits because they increase customer satisfaction, get more from the network and end up being more competitive.
Centralized control
Decoding solutions are of limited value because when a problem is identified, a technician must solve it - an expensive undertaking. It is best to have a network operations center with feedback rather than having to send someone there. Remote scanning is less expensive. It makes more sense to invest in integrating network probes with the operator's back-end systems to provide manageable and useful data. One of the main areas of development is to link monitoring and testing to the operator's OSS systems, enabling reporting for a variety of uses.
It is likely that the integration of the monitoring probes is the result of the operator's reporting systems. Surveillance is only half the problem. You should be able to analyze and discover problems by providing simple integration to provide reports to experts and customer support. SNMP is essential for setting alarm thresholds, etc. but may be of limited use in providing more detailed information in real time on access and the aggregation network.
In order to provide usable information depending on the level of knowledge, for example, staff involved in customer relations needs less technical information than the information analyzed by staff in the engineering department, it is necessary to provide a simple user interface. Some people need something simple, but an engineer needs a lot more to understand where he is in meeting his ALS obligations.
Net.Audit advantage
Network auditing provides operators with the simplest information necessary to identify and resolve a large percentage of problems in real time over IP networks:
• Installation and network views through a video network
• Ability to direct / adjust the probe from a centralized control system
• Allows engineers to quickly identify the location and root cause of underlying problems
• Statistical recording and production of reports
• Trend analysis for monitoring management performance measures and service level agreements
• Users can easily install, configure and maintain their own monitoring system
• Automatic discovery of the availability, configuration and diagnostic capabilities of the probes
NetStorm generates typical IP and Carrier Ethernet disturbances for test applications, devices and protocols that should tolerate delays, jitter, loss, duplication, reordering, errors and band variations busy.
The Net.Storm tester is capable of realistically emulating the network.

• Network Design. Verification and debugging of Ethernet and IP networks, in both telecom and enterprise.
• IP Applications access, VoIP, Gaming, Streaming audio and video, IPTV, VoD, and real/time services.
• Approval and Acceptance Tests
• Application Troubleshooting. Audio and video streaming, IPTV, VoIP, network gaming, and many more.
• QoS level verification in Intranet or Internet environment to configure terminals, gateways and routers.
• Laboratories. Generation of controlled QoS on different flows defined by the user to
• Emulation network conditions latency, jitter, packet loss, reordering, bandwidth limitations.
• Protocol testing used by Multiplay Application such as H.323, SIP, MPEG2, MPEG4, and VC1.